Top 5 universities in Scotland
The Times and Sunday Times revealed their annual rankings last week, and today the focus is on Scotland! Learn more about the five best universities in Scotland below:
1 – University of St Andrews
The University of St Andrews was ranked the top university in Scotland following the results of the Times and Sunday Times University Guide 2016 this year, finishing fourth overall in the prestigious rankings. Despite losing the 'Scottish University of the Year' crown to Dundee (see below), St Andrews remains the strongest institution north of the Scottish border.
It completes a fantastic year for St Andrews, who placed 68th in the prestigious QS World Rankings 2015/2016, its highest place ever in a global ranking.
2 –University of Edinburgh
The University of Edinburgh is amongst the largest and most prestigious universities in the world and currently ranks 22nd in the UK – a non mover from its rank last year – and second in Scotland.
Academically, Edinburgh holds a strong reputation for medicine and science, being home to numerous discoveries and inventions such as anaesthetic, penicillin and the telephone. The University also has the oldest Department of English Literature in the UK.
3 – University of Glasgow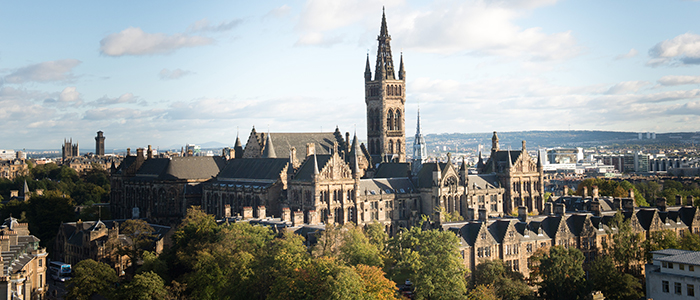 The University of Glasgow remained in 26th place in the Times 2016 rankings, as well as third in Scotland. Glasgow has enjoyed a fantastic 2015 after being named Institution of the Year at the inaugural Herald Higher Education Awards and ranking fourth in the UK for international student satisfaction.
The University of Glasgow also picked up nine top awards in the QS Stars University Ratings.
4 – University of Dundee
The University of Dundee enjoyed a year to remember in 2015, with a host of accolades and awards being given to the historic institution, including:
Scottish University of the Year – Sunday Times
1 in Scotland – National Student Survey
1 in Scotland – Times Student Experience Survey
Scotland's Best Student Union – National Student Survey
5 – Heriot-Watt University
Heriot-Watt University enjoyed a small rise in the 2016 Times rankings, moving up three places to 38th overall in the UK, while remaining fifth in Scotland. The University ranks in the top twenty in the UK for graduate salaries, and fourth in Scotland. Heriot-Watt has five subjects ranked in the UK top ten, including:
Building
Chemical Engineering
Art and Design (Textiles)
Mechanical Engineering
General engineering
Are you interested in applying to any of the above Scottish universities? Arrange your free consultation in London or Manchester today!