Pursuing higher education in the United Kingdom has long been a dream for many students around the world, and Bangladeshi students are no exception. Thousands of students fly to the UK as the country offers a diverse and enriching academic experience through its world-class education system and top-ranking universities. But, before deciding to study in the UK, students and their parents need to have a comprehensive understanding of tuition fees and the cost of living with all its major aspects.
By having an understanding of how much students need to spend to pursue their higher education, they can plan their journey well ahead in advance. Applying for scholarships, opting for specific loans, and considering working part-time in the UK can be some of the ways to offset the financial burden. All international students are allowed to work up to 20 hours per week during term time and full-time during vacations. This option not only provides financial support but also offers valuable work experience. Budgeting your stay is also crucial as studying abroad is generally expensive, and students can overspend if they are not careful.
Are you interested in getting more information about the application process and scholarship options available in the UK for Bangladeshi students? If so, you can book a free consultation with SI-UK now for expert guidance.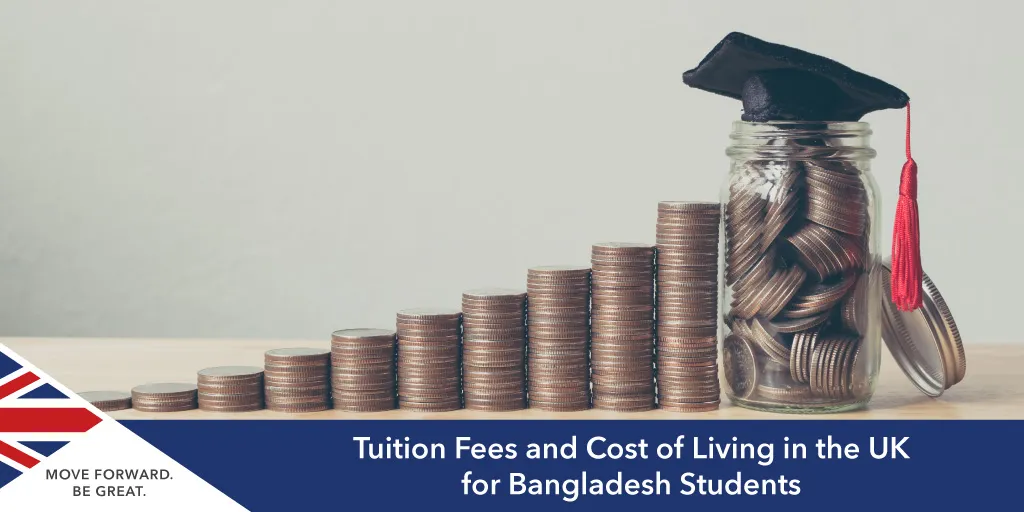 Tuition Fees and Cost of Living Guide for Bangladeshi Students
Tuition fees
Tuition fees is one of the most significant factors influencing a student's decision to study in the UK. Fortunately, many UK universities offer competitive tuition fees, making high-quality education accessible to international students. The cost of tuition may vary depending on the level of study (undergraduate or postgraduate) and the chosen course of study. The courses in humanities, arts, and education are generally cheaper as compared to medicine, engineering or MBA, which are usually on the higher spectrum.
It must also be noted that for undergraduate programmes, Bangladeshi students can find tuition fees that generally range from £10,000 to £20,000 per year. This range, while varying among universities and disciplines, remains relatively affordable compared to other popular study destinations. Postgraduate courses may have slightly higher tuition fees, often falling between £12,000 to £25,000 per year.
Cost of living
In addition to tuition fees, students should also consider the cost of living in the UK, which varies depending on factors such as the city of residence and personal lifestyle. While larger cities like London may have higher living costs, many other cities in the UK offer a more affordable living environment.
Many universities in the UK offer on-campus residence, which can be an affordable option. The halls of residence at these universities can be full-board or self-catered with different amenities. But, it is important that you apply for housing early as the slots may be limited. For students who are not able to find a place on campus, most universities offer help in finding off-campus housing options. These may include a room, apartment, or homestay options, and the costs of all these are different. It is also essential to know that anyone living in the UK over 18 years of age must pay for local community services. According to the NUS/Unipol Accommodation Costs Survey, the average weekly rent in London is around £157.48, while in Northern Ireland, it can cost you around £83.01 per week.
Other living expenses
Apart from the expenditure on accommodation, students must also allocate monthly expenses for other living expenses such as bills, food, housekeeping, mobile and data plans, clothes, books, stationery, and other important things. Transportation costs may also be added to these if the student needs to travel from off-campus locations to the university. These expenses can range anywhere from £800-1200 as per the specific lifestyle choices of students.
Health insurance and support
As per the National Health Services, students are required to pay £300 yearly, measuring the duration of their student visa for as long as the programme runs. Chances are that your university also provides a health insurance plan. Find if that is available and apply for the same. It must be noted that this plan is only applicable till the time you are a student at the university, and if you decide to stay beyond that point, then you must make arrangements for health insurance on your own.
UK Study FAQ
How much does it cost to study in the UK for Bangladeshi students?
The total cost of studying in the UK for Bangladeshi students, including tuition fees and living expenses, can range from approximately £20,000 to £35,000 per year. This estimated total includes tuition fees, accommodation, food, transportation, study materials, healthcare, and other essential expenses.
Is the UK a good place to study for Bangladeshi students?
Yes, the UK is widely regarded as a fantastic destination for Bangladeshi students seeking quality education and a global learning experience.
How much living expenses are required for a UK student visa?
As per the current regulations, students applying for a UK student visa are required to demonstrate sufficient funds to cover their total living expenses while studying in the UK. This amount will depend on the length of the course and the location of the study. For instance, you may require £1,334 per month for courses in London.
Which city in the UK is best for Bangladeshi students?
The choice of the best city in the UK for Bangladeshi students can vary depending on individual preferences and needs. However, some cities are particularly popular among international students, which include London, Manchester, and Birmingham.
Is it easy to get a job in the UK for Bangladeshi students?
Getting a job in the UK as a Bangladeshi student can be challenging, but it is certainly possible with the right approach and preparation. The ease of finding a job depends on various factors, including your field of study, skills, work experience, and the current job market conditions, and if you have the right skills and approach the job market with a positive mindset, you can get a job in the UK.