Studying in the United Kingdom is a dream for many Malaysian students seeking world-class education and international exposure. However, to pursue their academic aspirations in the UK, all international students need to obtain the appropriate visa and fulfill specific requirements before they can start their educational journey.
The UK student visa is designed for non-EEA (European Economic Area) and non-Swiss students who wish to study in the UK. The visa allows students to study full-time in a recognised educational institution for the duration of their course. There are certain steps and documents you will need to apply to obtain the visa, and it is also important to submit the complete application in time so that you can arrive for your study session in time and make arrangements to stay as an international student in the UK.
Malaysian students intending to study in the UK also need a student pass from their home country before flying abroad. All these processes may seem daunting for beginners, but with expert guidance, you can be sure to move ahead in the right direction. SI-UK has been making study-abroad dreams of international students come true for more than 17 years. Book a free consultation with our experts to start your application.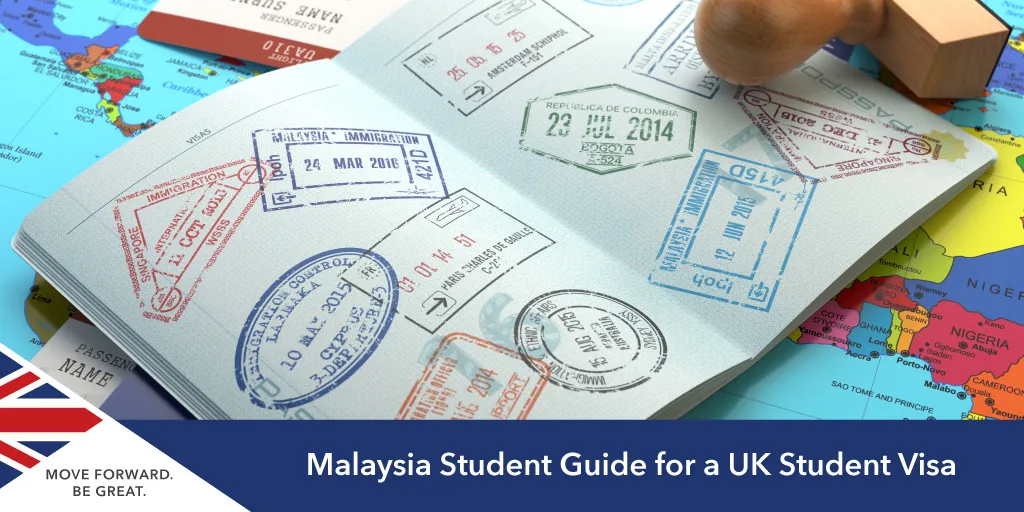 UK Student Visa Guide for Malaysian Students
- Requirements to attain the visa
In order to get a UK student visa, certain requirements must be met. After you have applied to the university and have received the offer letter, the university will send a Confirmation of Acceptance for Studies (CAS), which is a unique reference number that you hold while applying for the visa. Apart from this number, you must demonstrate your English language proficiency through standardised tests. Students from certain countries, including Malaysia, might need to undergo a TB test as part of the visa application process.
- Fees and financial requirements
You must pay the visa fees to have it processed from official channels. As of now, the visa fee is around £363 for students applying from outside the UK. Some applicants may also need to pay the Immigration Health Surcharge (IHS) as part of their visa application process, which provides access to the UK's National Health Service (NHS). Please note that fees may change over time, so checking the latest fees on the UK government website is advisable before applying.
Another important factor is that you must demonstrate the availability of sufficient funds to cover the tuition fees for the course and other living expenses. The amount may vary depending on the length of your course and whether you will be studying in or outside London.
- Application process
The journey to reach the UK for higher education starts by choosing the right course and institution. You should be careful of applying to universities that are licensed sponsors, allowing them to sponsor international students. After you have found the right university and course, you should submit your application, ensuring to provide all the necessary documents. Once you have the CAS number, you can proceed to the next step.
Next up, create an account on the UK government's official website (www.gov.uk) and complete the online visa application form. You must have access to the supporting documents, including a valid passport, recent passport-sized photographs, proof of English language proficiency, an unconditional offer letter from a UK institution, and evidence of enough funds to cover tuition fees and living expenses. Pay the visa fee as part of the application process.
- Schedule an appointment at VAC
After submitting the fees, you must schedule an appointment at a Visa Application Centre (VAC) for biometric information submission and document submission. Reach the centre on time with all the necessary documents. Some applicants might also be called for an interview to discuss their study plans and intentions.
- Visa processing time
Visa processing times vary, so it's essential that you apply well in advance, before your intended starting date of the course. It is suggested that you must apply for the visa three months prior to your landing date.
- Malaysian student pass
Before leaving Malaysia to study in the UK, Malaysian students are also required to obtain the Malaysian Student Pass, which allows them to travel abroad for educational purposes. You can apply for the Malaysian student pass through the Education Malaysia Global Services (EMGS) website. You'll need to submit the required documents, including the offer letter from the UK institution and proof of financial capability.
- Medical examination
Among the last steps is the mandate to undergo a medical examination at an approved panel clinic to obtain a Medical Examination Report (MER). Your application will be taken ahead once the report is clear, allowing you to fly to the UK in a healthy state.
- Visa Approval Letter (VAL)
After you have completed all the formalities, you will be able to receive the Visa Approval Letter (VAL) from EMGS, allowing you to travel to the UK for your studies.
It must be noted that obtaining a UK student visa and a Malaysian student pass requires careful planning, adherence to visa requirements, and timely submission of documents. Remember to stay updated with the latest visa requirements and guidelines, as immigration regulations may change over time.
UK Visa FAQ
How can I apply for a UK student visa?
To apply for a UK student visa, start by choosing a recognised course at a UK university and securing an unconditional offer of acceptance. Gather the necessary documents and create an account on the UK government's website. Complete the application form and pay the visa application fee and Immigration Health Surcharge (IHS) if applicable. Schedule the appointment at a Visa Application Centre (VAC) for biometric information submission and document submission. Attend an interview if required at the VAC. Wait for the visa decision, and upon approval, receive a vignette sticker in your passport to travel to the country and collect your Biometric Residence Permit (BRP) upon arrival.
What documents are required for a UK student visa?
For the application for a student visa, you will generally need the following documents:
Passport
Confirmation of Acceptance for Studies (CAS)
Financial documents
Academic transcripts and certificates
English language proficiency document
Tuberculosis (TB) test results
Passport-size photographs
Immigration Health Surcharge (IHS) Payment
It's important that you check the official government website or consult the nearest British embassy or consulate in your country for the most up-to-date and detailed information on the specific documents required for your UK student visa application.
How much is it for a UK student visa?
The cost of a UK student visa depends on the duration of your course and whether you are applying from inside or outside the UK. But, as an international student, you are expected to pay £363 for a course lasting over a year.
How long does it take to apply for a UK student visa?
The processing time usually varies depending on multiple factors, including the country from which you are applying and the time of year. On average, the processing time for a UK student visa is typically around 15 working days for applications made outside the UK.
Can I extend a UK student visa?
Yes, you can extend a UK Student Visa under certain circumstances. If you are already studying in the UK with a Tier 4 General Student Visa and wish to continue your studies, you may be eligible to apply for a further visa extension.
Can I stay in the UK after completing my studies?
Yes, you may be able to stay in the UK after your studies through various visa options, depending on your circumstances and future plans.
Can I work with a UK student visa?
Yes, you can work with a UK student visa under certain conditions. With a valid Tier 4 Student Visa, you are generally allowed to work in the UK, but some restrictions must be followed.